How to Brew Kombucha (with the RBC method)
Making Store Quality Booch Every Time w/ The Raw Brewing Co. Method!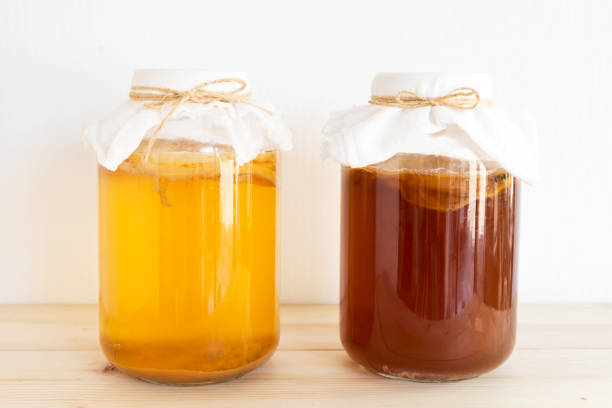 Part 1: Brew Kombucha
Put desired amount of tea into disposable kombucha.com Drawstring Filter Bags (tea balls and muslin bags not recommended for this blend). PRO TIP: tea will expand in water, so only fill your tea bags up about half way, otherwise bags may burst.
Add your sugar and filtered water to a pot, heat to a rolling boil, then add filled tea bags. Immediately remove from heat, cover, and allow to cool to room temperature. Remove tea bags. PRO TIP

: Need to cool your brew more quickly? Use only 1/4 to 1/3 of the total water to boil, allow tea to steep, then add the remainder at chilled or room temperature.

Add your cooled brew to your scoby and starter liquid, then check pH. Start your brew between a pH of 4-4.5. Cover with a piece of cloth (or kombucha.com Fer-Mesh) and an elastic band, then place in a well-ventilated area between 72-80 degrees. Do not place in direct sunlight.
Allow your brew to ferment for 5-10 days (warmer >temperatures take less time), or until your brew reaches desired flavor.
Optional: flavor with kombucha.com Brew Booster or your favorite booch fixins, and bottle for secondary fermentation. Enjoy your creation!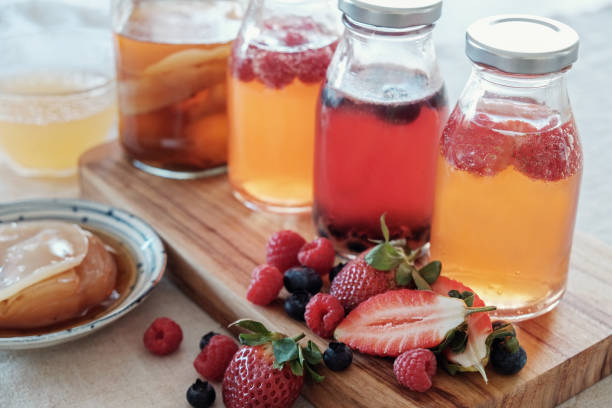 Part 2: Flavor Your Booch
Put desired amount of Brew Booster into muslin bag or tea ball and add to your brew (drawstring paper filter bags not recommended). Muslin bag or tea ball is not required, but you'll likely want to strain later
Put your brew in the refrigerator and allow to steep for 4-72 hours, or longer (the longer it steeps, the stronger the flavor). Optional: for kombucha and other living beverages, leave at room temperature for higher levels of carbonation.
Remove the bag, tea ball, or strain your brew. For kombucha and other living beverages, bottle for secondary fermentation and carbonation if desired. Store in refrigerator. Enjoy your brew!